You can directly reach the Customer Service Center using the Support button in the application. This will open a Safari page, all you need to do is click on the upper-right tab called "My Tickets", then click on "+New Ticket",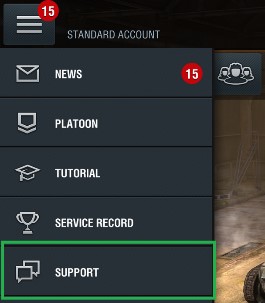 You can also contact us through our support website directly through any browser on your PC using this link:
http://support.worldoftanks.asia/
Please be aware that you need to be logged into the support page to send a ticket to our support staff. To log into our support site, please use your World of Tanks client login credentials!
Select the game that your query applies to. If your question is related and in this case please select the World of Tanks: Blitz' category. Once here you will be prompt to select a Sub category (in-game goods)
Enter some key words related to your issue and click "continue". Once here you will see a page with some articles and forum threads that match your keywords. We advise you to have a look at these suggestions as they can directly solve your issue. If you manage to find what you were looking in one of these articles, click on "Problem solved".
If you don't find what you are looking for please select "Problem not solved, continue". Here you will be requested to fill in a submission form: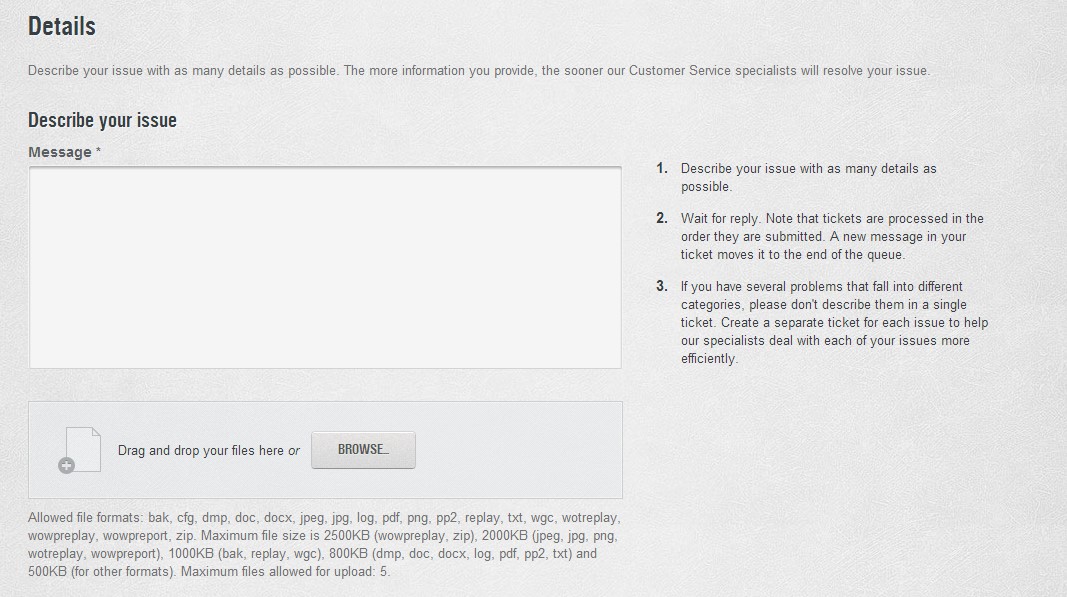 You are able to add your screenshots directly from your iPad by selecting "browse". But only screenshots can be added from your iPad.
From a PC you can however upload files any file, however please be aware that .JPG format images have an upload limit of 2MB and for unsupported formats or large size documents that exceed our file upload limit, please use some form of compression software such as WinZIP or WinRAR. Please choose your language and click on "continue".
Check the information provided and click "Submit ticket".
Your ticket has now been submitted! Please wait for an answer from our support team!