Discontinuation of macOS Support
Captains!
World of Warships is constantly evolving, with new ships and maps appearing in the game on a regular basis. We also add a lot of other content, such as new technologies intended to boost performance and enhance the quality of the audio and graphics.
In order to maintain that level of productivity, we unfortunately have to cease support for macOS.
The popularity of this operating system (OS) is quite low among our players. Aside from that, this OS has a number of specific features that take a lot of time and effort to manage on the part of our Dev Team. This has a negative impact on game development and hampers our ability to add new content and improvements. Bearing all these factors in mind, we've decided to cease support for macOS.
We're informing you in advance of these planned changes. We apologize for any inconvenience caused and thank you for your understanding. We would also like to share a couple of possible options that might allow macOS players to continue enjoying World of Warships:
World of Warships is available via GeForce NOW. For more info, go to https://www.nvidia.com/geforce-now/
Players with macOS can try using Boot Camp to launch the Windows operating system on their device and play World of Warships. For more info, navigate to https://support.apple.com/HT201468. Please note: Boot Camp is not officially supported by Wargaming, and we do not guarantee that World of Warships will run correctly when using it.
MacOS wrapper client crashes
The World of Warships wrapper should identify your graphics card make & model on launch and inform the game of how much video memory is available. This prevents the game from trying to load, or not cleanup often enough, too many graphical assets. However if the wrapper doesn't detect the graphic card's available memory correctly this can lead to World of Warships freezing up after a number of battles or lengthy play.
You can manually set the amount of available video memory by launching World of Warships and just as it first launches under the File menu choose Run Command. In the Run Command window enter regedit and run.
Once the Registry Editor comes up, browse to HKEY_CURRENT_USER/Software/Wine/Direct3D and in Direct3D right-click and add a new string value called VideoMemorySize and set it to 512.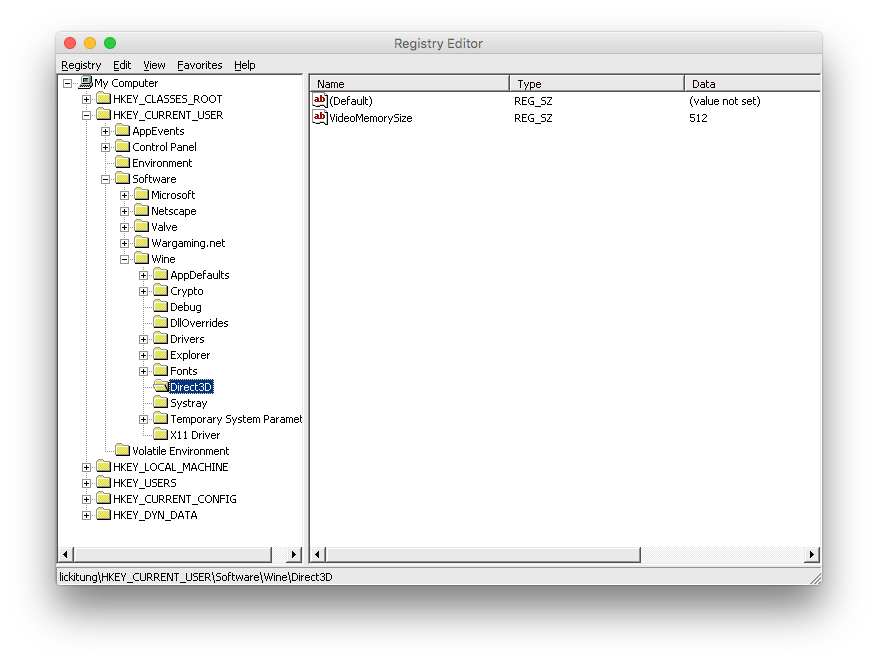 If the Direct3D folder doesn't exist, right-click on the Wine folder, New Key, and rename it Direct3D
Now try to run the game again.